June 24, 2013
I was on HuffPost today and was happy to see that they had this as the featured story of the day. Just wanted to post some news on the boards. Hopefully people can begin to understand why this little girl needs to be treated like she was a born a little girl. Though I do not identify as trans, I have several friends who do and they all told be that they knew at a young age that the "outside" did not match the "inside". I know for myself, when I was that young, the first crush I had (looking back on it) was a girl. Straight people can have these feelings at a young age, but apparently, if you're gay, you never can have the feelings you have now. If only for myself, I can prove them wrong.
I'm going to try and post an article every day.
Thanks for reading,
Andreja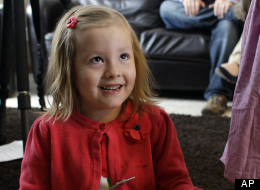 From Huffington Post...
"DENVER — Colorado officials say a suburban Colorado Springs school district discriminated against a 6-year-old transgender girl by preventing her from using the girls' bathroom, in what advocates described as the first such ruling in the next frontier in civil rights."
(click photo link above for the rest of the story)
Edited by lesbotronic, 27 December 2013 - 03:18 PM.